Ultimate Guide: Planning A Wedding Anniversary Party
Would you like to surprise your significant other on the eve of your anniversary party? How about a romantic date or a huge party with all your friends and family? Sounds fun, right?
For a married individual, the date that stands out from most other such important dates is the date of marriage anniversary. One can safely mark this date as their date of resurrection into a whole new perspective of the same world we live in. Citing the significance of this date and also your partner's willingness, you will have enough reasons to celebrate your anniversary to its fullest.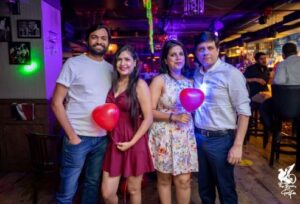 A new beginning:
But why are wedding anniversaries so significant for couples? Is this day truly deserving of so much focus? Yes, it does. It is, without a doubt, the most important day of the couple's lives together. The occasion is a milestone that marks the day when they exchanged vows and promised to be with each other for the rest of their lives.
The celebration of this day every year shows how far they have come. From being two different individuals in love to being two souls committed to each other, the journey sure has been quite an interesting one. Thus, anniversaries provide the couple to reflect back on a special day and cherish the memories that they created together.
But, even a happy marriage doesn't go smoothly all along, there are always ups and downs in a relationship, and sometimes one of you may think of having made a wrong decision. And that's very natural, as not all of us can take the world from others' perspectives. Those disagreements if piled up can give enough reason to question the bond and have even more fights.
So, what you can do is you can reset that pile of disagreements with a new beginning. It is very natural to ask how am I getting a new beginning in the middle of something?
The Answer is – Your Anniversary.
Yes, anniversaries mark a new beginning, and to make that mark a memorable one you can make resolutions for the future. And by celebrating the anniversary, you can show your partner how much you cherish him/her.
Celebrate the new beginning:
Welcome the new dawn with celebrations. Now, while organizing this celebration, you will realize that it is not an easy task to organize an anniversary party. Don't mind taking the hassle of going through all the lists of anniversary party places in Bengaluru. Because we have taken the load off your shoulder to provide you with the best ones.
If you are still confused about the location for your anniversary party venues in Bangalore, we have just the perfect place for you. The Black Pearl, Marathahalli has to be the ideal place for throwing a grand anniversary party.
The Black Pearl, Marathahalli is Bengaluru's Favourite and India's Largest Pirate Themed Restaurant. The place comes with a 'Wholesome Dining Experience' with live music, a relaxing theme, great food, and excellent service.
It can make any occasion a dream come true. It is a preferred spot for people of all ages and backgrounds. Kids love us, couples match their vibes here, and elderly reconnect with the entire family. People from all over the city come here to experience the vibrant vibe of the pirates. Thus, if you are a resident of East Bengaluru and cannot make up your mind about the perfect location, your search ends here. The Black Pearl, Marathahalli helps you tick all the right boxes that you can possibly require to ace a wonderful anniversary party.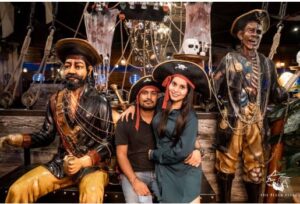 Fan of options? Would you and your partner prefer to spend your anniversary date night over some great cocktails. Good news, no need to search further as located in the very same building as The Black Pearl, Marathahalli is East Bengaluru's Favourite Party Destination – The Boozy Griffin, Marathahalli.
The very name of the place suggests their expertise and reflects their wide variety in the bar menu, along with a great selection of finger-licking worthy food that compliments the drinks and enhances their taste even further.
They also play the most popular foot-tapping music in town to leave you awed, heady, and freaking' dumbfounded! So, lay back and indulge into classic Brit majesty! Bon Appétit!
All in all, Anniversary parties are a great opportunity for couples to come together and mark their date. It can be your sixth anniversary, parents' silver jubilee, or a golden jubilee of your grandparents!
It is always a very fun and romantic affair. Even more than just for the couples, anniversary celebrations are when the couples' loved ones can express how much their union has influenced their lives.
After all, love is a positive energy that spreads among all. But planning anniversary parties each year is hard. But that doesn't mean it has to be an overtly lavish affair. It just needs a lot of thought, a bit of planning, and efficient execution.
We hope this article helped! Cheers to another year of togetherness!
Check out more offers, upcoming special events and of course more party pics below:

The Black Pearl, Marathahalli
https://www.instagram.com/blackpearlmarathahalli/
https://blackpearlmarathahalli.com/booking

The Boozy Griffin, Marathahalli
https://www.instagram.com/boozygriffinmarathahalli/
https://boozygriffinmarathahalli.com/booking/